HPC On Stage At National Awards
We are delighted to have sponsored the 2018 LaingBuisson UK Award for Housing With Care.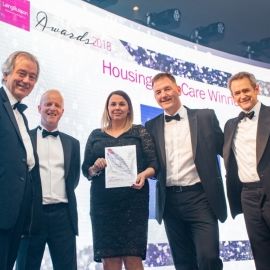 HPC Director Ian Wilkie took to the stage with celebrity host Alexander Armstrong in front of over 1,000 guests to present the LaingBuisson Award for Housing with Care to winners, Audley Group.
Recognised as one of the most prestigious ceremonies in the sector, this was the 13th year for the awards, which focus on those providing care and accommodation, as well as their advisors. The 2018 event took place within sight of the Houses of Parliament, at the Park Plaza on Westminster Bridge, and was hosted by Alexander Armstrong, actor, writer and one of the most recognisable faces on UK television. Also on hand was former Secretary of State for Health, Stephen Dorrell.
The Housing with Care award recognises the growing prevalence of this type of provision and sponsorship reflects HPC's increasing involvement with clients in the sector. We are delighted to support innovative new development, which provides new and creative housing solutions for the 21st century.
HPC extends comgratulations to the winners and to all finalists.