Restricted Budgets – Restricted Fees
As we enter the second quarter of the financial year, the majority of Local Authorities within England have now completed the Annual Fee Review. Analysis of elderly residential care fees carried out by specialist healthcare property advisors HPC indicates an average uplift in the region of 1.7%.
Whilst a number of councils have yet to complete the consultation process, this level of uplift at least seeks to give parity with rising costs. Having fallen significantly behind the Consumer Prices Index over recent years, this average review level is broadly in line with the April 2014 CPI of 1.8%. Unfortunately, what the uplift fails to reflect is the forthcoming 3% uplift in National Minimum Wage (October 2014) coupled with a rising pension liability for many operators.

The need for appropriate dementia care is well documented within the sector and, not for the first time, has been reflected in this fee review. The average fee uplift in respect of elderly dementia residential care (as reported to date) is in the region of 1.9%. The final piece of the jigsaw, the NHS funded nursing care rate saw a 1% increase in April 2014, the standard rate now being £110.89 and higher rate £152.61.
North of the border, the Convention of Scottish Local Authorities has also finalised negotiations with representatives of the independent care home sector as part of the National Care Home Contract. The standard rates for publicly funded services users are £499.38 per week without nursing care and £587.00 per week with nursing care.
The research, carried out by HPC, involved enquiry of all 152 English Local Authorities with responsibility for elderly care provision/placement. With only a handful of local authorities failing to respond, the analysis reflects the fees set across 124 of the local authority areas. Councils not reflected in the survey results include those currently out to consultation, those negotiating each fee on an individual basis and a limited number of local authorities who review annually in autumn.
At HPC we have seen first-hand an overwhelming surge in sector confidence over Q1 2014/2015. Investment (from both the UK and abroad) has flooded into the market and banks are increasingly keen to support care home operators with a proven track record. As a direct result, our transactional based activity has increased dramatically with demand for quality care facilities at its highest in years. With sector optimism on the rise, this fee review is a timely reminder of the continued financial restraints experienced by Local Authorities up and down the country. The Association of Directors of Adult Social Services (ADASS) report ongoing concerns in their recently published annual budget survey. ADASS President David Pearson confirms "This is the third year of continuing cash reductions and the fifth year of real terms reductions in spending. Since 2010 spending on social care has fallen by 12% at a time when the number of those looking for support has increased by 14%....Departments do not know if we are approaching the limits of the system to continue to absorb these pressures".
Once again, the 2014 Fee Review has seen an increasing level of consistency with a focused spread – the vast majority being either static or between 0 and 2.5% uplift. This contrasts with reviews two years ago when reductions in fee level were not uncommon and, in instances, equated to a 10% drop.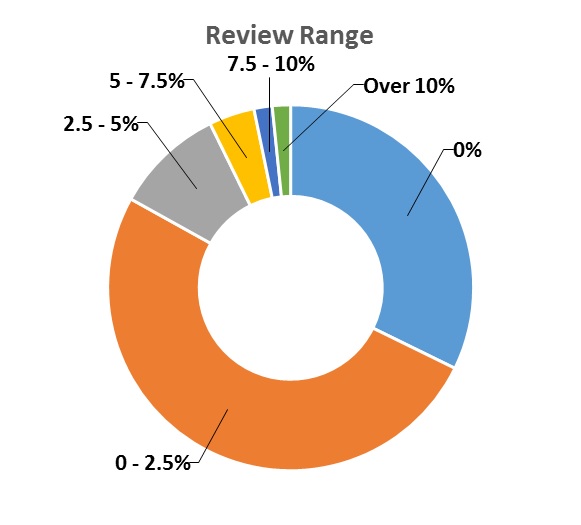 Last year the lowest average uplift, on a regional basis, was posted by Greater London and 2014 has proved no different. Indeed, the entire regional pattern remains relatively consistent year on year. The four regions awarding the highest average uplift in 2013 also do so for 2014, merely shuffling places between themselves. With the vast majority of fee reviews resulting in an increase of sub 2.5% throughout the country, there has been a bout of generosity in the Midlands. Awards of 13.7% and 16.5% by Rutland and Solihull respectively assisted heavily in securing the top two regional places.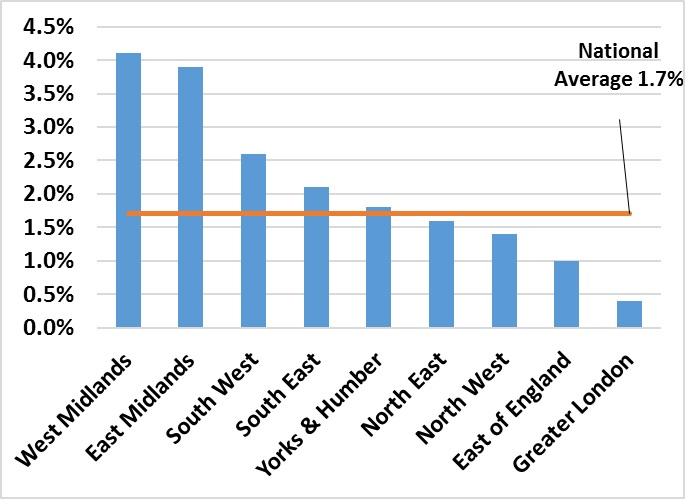 Although an improvement on 2013, analysis of confirmed fee reviews to date indicates that 63% of Local Authorities have awarded a fee uplift at a level below the April CPI. The elderly care sector within England has now experienced five consecutive years of sub inflationary Local Authority Fee Reviews resulting in what might be considered, in real terms, fee reductions.
Reflecting on the latest results, Nigel Newton Taylor (Director of HPC) warned "The additional pressure resulting from this level of uplift points firmly towards net bed losses in the short and medium term. The failure of Local Authority fee levels to keep pace with rising costs will test the viability of an increasing number of facilities. Coupled with a strengthening property market, many care homes proprietors will undoubtedly seek to exit through alternative use sale - akin to the situation we saw at the start of the millennium. Unfortunately, whilst the appetite for the development of new care facilities remains strong, our experience is that care developers are being increasingly outbid on sites by house builders as the residential market swiftly gathers pace. The equation is clear: Increasing attrition plus development difficulties equals falling bed numbers."
July 2014