HPC Brings Specialist Care Unit to Market
HPC has been instructed by a major charity to sell a purpose built care facility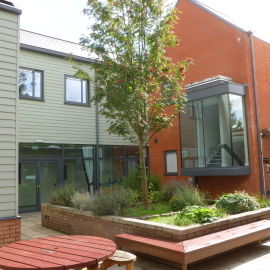 The property was purpose built in 2009 and can accommodate 12 service users in bedroom facilities designed as self-contained studios, each incorporating a sitting area, dining area and kitchen facilities, together with an en-suite wet room. Access to all of these services and facilities can be strictly controlled, depending on the individual level of risk and need.
HPC Director Ian Wilkie commented, "the property has an exceptionally bright and contemporary ambience. The impressive design ensures an open feel, particularly due to the windows and glazed corridors facing inward to the courtyard garden. The property was specifically designed to provide a flexible and adaptable environment, with variable levels of security in each self contained studio bedroom and throughout the building. There are also bespoke bedrooms for residents with physical disabilities"
Ian adds "we have previously acted for this client in the sale of another specialist unit and simlarly anticipate a high level of interest for this unique facility".
Further details can be obtained by contacting HPC.