HPC Launches All New Location Report
Having been at the vanguard of location analysis and reporting in the care sector, HPC has now updated its classic Location Report with an all new, interactive version.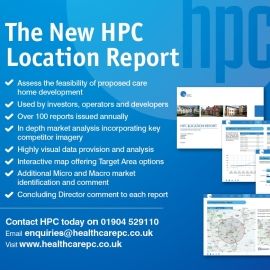 When HPC was established back in 2008, Director and Chartered Surveyor Nigel Newton Taylor had a vision which would disrupt the traditional world of professional reporting. Until then, development within the elderly care and housing sectors had been largely speculative, with sites often chosen on instinct as much as they were on sound data.
Nigel comments, "Valuation reports would be provided for these developments based firmly on forecasts, usually provided by the end operators. The sector had become used to seeing a lot of demographic data printed off and annexed to these reports, but nobody was really interpreting what any of it meant. In the final analysis, a lot of numbers were being provided without any conclusions being drawn."
This is when HPC decided to turn the care market on its head, by providing detailed analysis of key demographic, demand & supply, planning and revenue data before anyone got as far as valuing a proposed scheme. Nigel adds, "It seemed logical to assess the viability of sites from the start, before committing to the many addtional costs associated with a new development. If you can identify immediately the viablilty, or otherwise, of your scheme, you can start making informed decisions on cost straight away. If you look at other sectors, such as retail, they had been doing this stuff for years, but we identified that, for some reason, the elderly care and housing sectors were yet to catch up."
Nine years on, and many hundreds of reports later, HPC is launching an all new version of the Location Report. "Things move on, and our clients are demanding ever-more sophisticated information" Nigel says. "The new Location Report provides interactive features, allowing our clients to interpret the data in layers and immediately compare their target area with micro and macro analysis of the catchment. We have also enhanced our use of imagery, to assist in providing better information to our clients in respect of exisiting provision within their chosen area. We are excited about our new product and looking forward to sharing this with our clients over the coming years."
Having set the benchmark years ago with the Location Report, HPC has undoubtedly produced a new version to attract the attention of operators, developers and investors alike.
November 2017