Innovative Designs Changing the Face of Social Care
Recently HPC directors had the real privilege to be given a tour of Belong's latest care village in Newcastle-under-Lyme.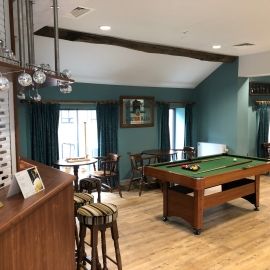 "The 24-hour nursing and dementia care facility is genuinely one of the best care developments I have seen!" says Ian Wilkie, director at HPC.
"That's a huge statement, but it comes from a reasoning you may not expect. Yes a huge amount of investment has gone into this state-of-the art facility, but that isn't the reason why it is worthy of such praise."
"Why? It maintains the normality of life! We saw all generations enjoying the facilities, indoors and out.
"The village centre is open to the public. From the bistro and separate tea room, to the exercise studio, venue hire and heritage centre, the care village offers a range of amenities where all members of the community can meet, relax and access a vibrant programme of events and activities.
"It also benefits from a mix of registered care in homely and manageable, 12 bed households and separate apartments. Again this mix presents a normal view of a community. There are independent retirement flats, but there are also CQC registered care beds. It's a harmonious mix of life."
Bringing the past and shared memories to life is the community village Heritage Gallery. This dementia-friendly facility links the past and the present through people, and their memories. School children can take part in the children's trails here, exploring the history, and memories associated with the building and the town.
"It's a shared environment and you can see the care village culture really benefits from that.
"During our visit we learnt about a son visiting his elderly father. It was the first time he felt able to sit down and talk properly to his father in years. The reason? He could take his father for a pint in the care village's recreated Old Pomona Inn with licensed bar.
"It's simply a man taking his father for a pint in a normalised way, like he would outside of the care home. The fact that the pub is there has provided a perfectly normal setting for normal social interaction.
"Of course professional care and support is there, but the essence of everyday society and community is maintained to normalise and maintain a quality of life that everyone deserves.
"Thankfully, we are fortunate enough to work with a number of clients creating new and innovative design in care provision, both in care villages and care homes. The UK has a need for an efficient and sustainable social care system for as many years as you care to forecast. I believe Belong has really embraced this opportunity, in providing an excellent example of what can be achieved now and in the future. I have been lucky enough to be invited to visit other care villages, and I am very much looking forward to also seeing the designs of these providers."
October 2019