Same old, same old
Early indications suggest that England will see a positive average local authority fee review of circa 1.4% for the current financial year, all but mirroring the 2012 uplift for elderly care provision.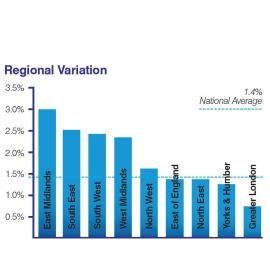 The level of uplift, effective from April 2013, is par for the course and will come as no surprise to elderly care home operators. National average local authority uplifts over the three years 2010-2012 inclusive have varied between 0.1% and 1.5% whilst the NHS funded Free Nursing Care Contribution increased by 1.0% to £109.79 at the beginning of the current financial year.
Whilst the majority of local authorities are offering an uplift, the ongoing austerity measures have ensured that the uplift has been limited to a level which will, in real terms, impact negatively once more on margins. With the year to April Consumer Price Index (CPI) running at 2.4% (RPI 2.9%) and the National Minimum Wage level due to increase by 1.9% in October, margins are set to fall further in facilities heavily reliant upon local authority funded clients. Unfortunately, any fat surrounding operational costs has been trimmed by operators in recent years due to pressure on margins and options are therefore becoming increasingly limited when assessing viability moving forward.
Whilst the uplift is broadly in line with the past three years, we are now seeing a more consistent and focused spread of increase with no reported reviews to date being negative and the vast majority between 0% and 5%. This contrasts with last year when 4% of reviews resulted in fee reduction and the awards ranged from a fee drop of 9.5% to increase of 11.4%.
The research, carried out by HPC, involved enquiry of all 152 English local authorities with responsibility for elderly care provision/placement. With just 13 local authorities failing to respond, the analysis reflects the fees set across 103 of the local authority areas. Councils not reflected in the survey results include those currently out to consultation, those negotiating each fee on an individual basis and a limited number of local authorities who review annually in autumn. In order to provide consistency for comparison, the headline 1.4% uplift is based upon elderly residential care fee reviews. What the research also reveals is a slightly more positive uplift in dementia residential care fees of 1.6% as the industry continues to appreciate the need for appropriate specialist care.
This latest HPC research is broadly in line with the results of a recent survey carried out by the Association of Directors of Adult Social Services (ADASS) throughout April 2013 and published in May. Despite much welcomed resources being transferred from the NHS to local authority funded social care, Directors of Adult Social Services are planning to save a further £800 million in the 12 months to April 2014 and fee control will undoubtedly play a significant part in cost limitation. In the words of Sandie Keene, ADASS President, "gazing into the next two years, without additional investment from that already planned, an already bleak outlook becomes even bleaker".
The ADASS research also confirmed the potential for legal challenges in the wake of static fees, with 43% of local authority respondees anticipating further litigation over forthcoming years. As predicted by HPC twelve months ago, recent months have also seen a significant increase in Fair Price for Care exercises throughout the country as both local authorities and Care Home Associations have sought to reach an acceptable conclusion without costly court intervention.
For the second consecutive year the regional breakdown confirms the lowest annual movement to be in the capital, with the most impressive being in the East Midlands. The latter region includes two counties amongst the highest national increases – Nottinghamshire and Leicestershire offering an annual fee enhancement of 12.3% and 6.4% respectively.
The potential impact
The elderly care sector within England has now experienced four consecutive years of sub inflationary local authority fee reviews, resulting in what might be considered, in real terms, fee reductions. Indeed, this year's provisional results indicate that only 22% of local authorities are awarding fee uplifts at a level above CPI. Is there any real surprise that operators continue to concentrate their acquisition/development efforts on the more affluent self-fund regions?
Any opportunity for operators to make savings in order to protect margins has been taken long ago and this latest fee review is likely to impact directly on profitability. As margins continue to fall we have seen a number of operators fall out of the market involuntarily. There remain in the market a significant number of care home facilities on the viability borderline and, as we experienced at the turn of the millennium, the returning residential market is likely to provide a welcome escape route for many smaller facilities attractive for residential conversion or, indeed, larger facilities of poor environment attractive to residential developers. We believe that the returning alternative use markets will therefore attract an increasing number of 'voluntary' care home closures over forthcoming years, resulting in increased occupancy (and profitability) for those operators remaining.
July 2013