Why Care Homes Will Survive the Personal Care at Home Bill
For those who have been involved in the long-term care of elderly people for a number of years, the recent high profile political and media discourse relating to provision and funding will not have come as a surprise.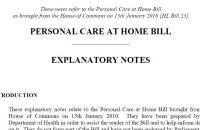 For those who have been involved in the long-term care of elderly people for a number of years, the recent high profile political and media discourse relating to provision and funding will not have come as a surprise. What is surprising is the extent to which politicians of all parties seem to have been wrong-footed by the issue. There is a sense of policy-making on the hoof, of ill-considered and insubstantial solutions to a considerable and substantial problem. It is as if this issue is one that they all hoped to be able to park until after the election, only to be caught out when it became apparent that answers were needed now.
To be fair, the severity of the recession has probably pulled us forward a year or two ahead of the sector's natural cycle. It has created a "perfect storm" of factors which have combined to impact upon the traditional long-term care market. These squeeze the sector from three sides - by putting pressure on fees and placements as a consequence of reduced funding from the public purse; restricting the availability of finance for new investment through constrained bank lending; reducing fee revenue from privately funded residents by impacting on their property and financial investments. Furthermore, creeping obsolescence of properties, set against a more stringent regulatory environment, is causing a surge in Local Authorities reviewing their own long-term care facilities, which in turn is creating much opposition and protest at local level throughout the UK.
The government's solution is the Personal Care at Home Bill, which links to its broader vision of a National Care Service, and ostensibly does what it says on the tin for 280,000 people with the highest needs and provides additional care for 130,000 others. The Conservatives favour a Home Protection Scheme, to all intents and purposes an insurance scheme, which will guarantee funding for long term care in exchange for a one-off payment which will also remove the need for people to sell their houses. The Liberal Democrats state a preference for some kind of partnership model between State and individual, however their 23 page "pocket guide" to their policies dedicates only five and a half lines to long term funding of adult social care and Nick Clegg has stated the current financial situation will cause them to "shelve" some of their key party pledges.
The issue of home care is one which is most often cited as being likely to impact upon providers of long term residential care. It is a key plank of government policy, and as they have had to do more maths than the other two parties to put the Bill together, it is worth looking at the numbers behind the Personal Care at Home Bill to see how real that threat may be.
Parliamentary Explanatory Notes tell us that the key aim of the Bill is to "encourage more people to avoid or delay entering residential accommodation". A House of Commons Library research paper into the Bill reminds us that in England, the Fair Access to Care Services (FACS) guidance provides councils with a framework for setting their eligibility criteria for adult social care across four eligibility bands - critical, substantial, moderate and low. The government says that the bill will help those with the highest needs - that is those in the critical FACS band - the criteria for which includes phrases such as "life is, or will be, threatened", "significant health problems" and "inability to carry out personal care or domestic routines". In presenting the Bill to the House of Commons on 25th November 2009, Phil Hope said "The Bill guarantees free personal care for the 280,000 people with the highest needs - including those with serious dementia or Parkinson's disease."
There are not many who would disagree with the sentiment in seeking to provide care in an individual's home wherever possible, but how is that going to happen for the most dependent and at what cost? The government has suggested a figure of £670m - £420m from existing NHS budgets and £250m from cost savings and efficiencies in Local Authorities. The gross expenditure on home care services by councils with adult social services responsibilities in England was £2.7bn in 2007/8. In one survey week in 2008, 328,600 households and 340,600 individual service users received home care or help. Very roughly, that is an average of £150 per service user per week. However, of those households, only 32% received intensive home care, defined as more than 10 contact hours and 6 visits during one week. That is less than one visit per day. If the overall average is £150 per week, what is the cost of the more intensive care?
One would have to suggest that those currently in long term care - to be clear, those with "the highest needs - including those with serious dementia or Parkinson's disease" - would require a level of care significantly in excess of the current minimum definition of "intensive home care". The cost of providing the required level of care, from appropriately skilled staff, to the numerous geographic locations which are people's own homes, must rise exponentially far beyond the level of viability. None of this takes into account the additional 130,000 people the government includes in its headline numbers whom it hopes will benefit from "re-ablement", at an estimated cost of £1,000 each. That is a cost equivalent to less than 3 weeks in a care home, to "re-able" them all to be no further drain on the state purse.
The government's numbers have understandably been called in to question from many sides. The fact is home care is an emotive issue which plays well with the electorate, particularly the "grey vote". The question of appropriateness does not seem to come in to it. We should surely aspire to a rounded UK long term care sector offering a range of services to differing client groups. We have heard this before, where we are told that the vast majority of people would choose to be cared for in their own homes. Perhaps government ministers and those in opposition should spend some time visiting residents in care homes in 2010. They would see that for many, sadly, the point of choice has long since passed.
Ian Wilkie
Director
Healthcare Property Consultants
March 2010