HPC acts in sale of Hampden House nursing home in Harrogate
HICA Group has purchased Hampden House on Duchy Road, Harrogate from Elizabeth Finn Homes for an undisclosed sum.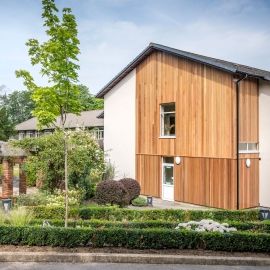 A leading Yorkshire-based social care group has acquired a prestigious care home in Harrogate from a charitable operaror in another successful care sector completion for HPC.
Hull-based HICA Group has purchased Hampden House on Duchy Road, Harrogate from Elizabeth Finn Homes for an undisclosed sum.
Hampden House is a 66-bed purpose-built nursing home located within the Duchy Estate. The home provides the highest level of facilities and services from personal and nursing care, short-stays and end-of-life care.
The employment of all 70 staff has been secured in the handover to new ownership and general manager Jane Hooren continues to lead the team.
Terry Peel, HICA CEO, said: "This new venture marks a significant milestone for us, as we expand our commitment to delivering exceptional care and support services to our community."
Ian Wilkie, director of HPC who handled the sale on behalf of Elizabeth Finn Homes said: "We are delighted to have secured a successful outcome for our client, whilst also maintaining continuity at the home through introducing a buyer which has a similar ethos to Elizabeth Finn Homes – with any operational surplus invested back into its portfolio of care homes and its homecare services."
Elizabeth Finn Homes is a wholly owned subsidiary of the charity Turn2us. Dr Olivia Curno, CEO of Elizabeth Finn Homes said: "We considered a range of potential new owners, but it was HICA's culture, leadership, and ethical approach that led us to choose them. We are confident that they will continue the warm, person-centred and professional standard of care that we uphold at Elizabeth Finn Homes. We'd like to take this opportunity to thank the colleagues, residents and families of Hampden House for being part of the Elizabeth Finn Family for 65 years, for the thousands of lives that we have together changed through our work and the work of our charity owners, Turn2us."
General manager Jane Hooren, who joined Hampden House in 2016, and is excited to continue in this role with the HICA Group, said: "Our team remains dedicated to upholding the legacy of excellent care and support services that the previous care owners, Elizabeth Finn Homes, have provided. We take pride in extending this tradition while incorporating the distinctive HICA touch."
Ian Wilkie added: "This is the second major care transaction on the Duchy Estate HPC has handled in recent years, having also sold the former Alexander Court on Cornwall Road, subsequently redeveloped as The Manor House. Alongside advising on other significant care property transactions, including Tate House on Wetherby Road, The Lawns on Oatlands Drive and The Moors in Ripon, we are proud to have a strong pedigree of care property transactions in the Harrogate area."
Terry Peel concluded: "We would like to extend our gratitude to Ian Wilkie of Healthcare Property Consultants Limited for his invaluable guidance in navigating the complexities of the healthcare property sector and to Marcus Armstrong and the dedicated team at Brabners solicitors for their exceptional support and expertise throughout the acquisition process. Their collective efforts have played a pivotal role in making this acquisition a reality."