HPC Renews Sponsorship of LaingBuisson Awards
We are very pleased to announce that we are proud sponsors of the 2019 LaingBuisson UK Social Care Award for Larger Organisation in Residential Care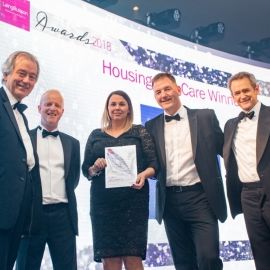 Following on from our recognition of the Housing With Care sector in 2018, we are delighted this year to be sponsoring the LaingBuisson Award for Larger Organisation in Residential Care. This reflects the hugely valuable service these operators provide nationally, and also a key segment of the HPC client base.
Recognised as one of the most prestigious ceremonies in the sector, the awards are now in their 14th year and retain a major focus on those providing care. This year's event takes place within sight of the Houses of Parliament, at the Park Plaza on Westminster Bridge, on Wednesday 13th November.
To find out more and to nominate, visit: https://laingbuissonawards.com/nominations-2/
We are delighted to extend our relationship with LaingBuisson, and also to support our colleagues in the residential care sector.
Please get in touch should you wish to discuss our services further.