HPC Sponsors LaingBuisson Awards for Fourth Year
We are delighted to confirm that for the fourth year in succession we will sponsor the LaingBuisson Awards, once again recognising the accolade for Larger Organisation in Residential Care.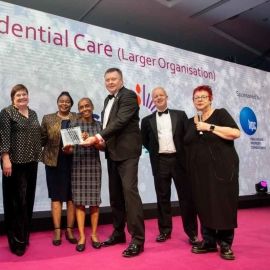 In supporting the award for Large Residential Care Provider, we have previously recognised the invaluable contribution to care made by quality service providers. This year, we must once again express thanks for the selfless efforts of the organisations and their staff in continuing to care for the vulnerable during incredibly challenging times.
We are proud to stand alongside them all, and look forward to being able to share that recognition later in the year. The award ceremony is due to take place at the Park Plaza, Westminster Bridge, London, on Thursday 18th November 2021. We offer our best wishes to all the finalists.
After so long without being able meet in person, we would urge all our friends and associates to take the opportunity to attend if they feel able. More details can be found by following the link here https://laingbuissonawards.com/